Brand Development
Resolution Creative builds successful online brands

Your online presence is a vital component of your corporate identity. As many people's initial, and often only, contact with your business, it is more than just a fancy logo or a catchy tag line. Your digital brand embodies what and who you are, what separates you from the rest and why people should do business with you.

Developing a unique online brand requires a plan that consistently communicates what your company is and does, along with its distinct image, personality and attributes. At Resolution Creative we provide a complete range of strategic online brand consulting and creative design services, encompassing logo and web design, as well as SEO, applications and social network expertise.

Resolution Creative has considerable experience in creating and developing online brand identities for start-up businesses and established companies, as well re-launching and invigorating existing sites. Our aim is to build online brands that acquire and inspire loyalty from their target audience; that offer a unique experience, deliver a consistent quality of service and self-promote.
Featured Case Study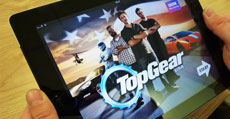 The BBC Top Gear USA multi platform sales presentation.
Read the case study >
View recent case studies >
---
Get in touch
Resolution Creative Media Ltd
Audit House, 151 High Street
Billericay,
Essex
CM12 9AB
t: +44 (0)20 7870 5308