Web Design & Development
Resolution Creative creates complex, carefully crafted websites

We are a multi-discipline agency where everything is created in-house by our highly experienced and skilled web designers and developers. Each website we produce, whether purely promotional or feature-rich and dynamic, is built to the highest of standards, utilising of-the-moment methodology, techniques and technologies, and inspirational creative input.

Typically, a website project will involve an initial period of analysis, covering not only the technical or creative aspects of the website, but a myriad of other factors, such as how far the business objectives depend on user aptitude or the expected rate of visitor-to-customer conversion.

Following the initial consultation and analysis, a specification is agreed, this forms the blueprint for the site. Our designers then create draft wireframes and key pages layouts before handing over to developers for implementation, testing, and finally, going live.
Featured Case Study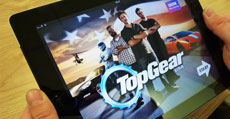 The BBC Top Gear USA multi platform sales presentation.
Read the case study >
View recent case studies >
---
Get in touch
Resolution Creative Media Ltd
Audit House, 151 High Street
Billericay,
Essex
CM12 9AB
t: +44 (0)20 7870 5308