Social Media Marketing
Resolution Creative harnesses the power of social media

Social media marketing is a unique way of empowering your business; giving you the opportunity to create advertising campaigns which directly target key audience groups. Resolution Creative has devises high-impact, cost-effective social media advertising programmes which provide proven ROI.

Resolution Creative has developed specific expertise in numerous social media networks, including Facebook, LinkedIn, YouTube, StumbleUpon, Twitter, Flickr, Delicious, Digg and MySpace, and we continue to monitor new trends and developments.

With a comprehensive understanding of the marketing opportunities available, including building networks, utilising content and creating viral marketing campaigns, we advise companies currently unrepresented this area and help others to add value to their network presence.

Featured Case Study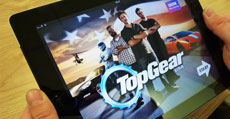 The BBC Top Gear USA multi platform sales presentation.
Read the case study >
View recent case studies >
---
Get in touch
Resolution Creative Media Ltd
Audit House, 151 High Street
Billericay,
Essex
CM12 9AB
t: +44 (0)20 7870 5308